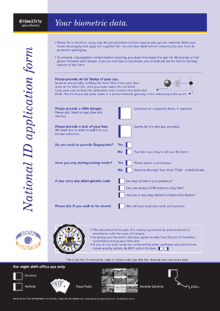 Part 3 - Your Biometric Data
The third part of the Government's campaign of ID card application form.
Your Biometric Data - 810m37r1c5 (PDF) (also available as a gif ) incorporates new scientific technology to facilitate paper-based Iris Recognition and DNA collection.
Claimants downloading the PDF and GIF versions may need to add Biometrics Plug-ins to their browsing software and purchase a new enzyme-catalysis print cartridge.

The form features a night-vision Office Use panel with integrated CCTV monitoring.