Home » Myway Code Theory Test » What is the chosen vehicle of Britain's worst drivers?
it's myway, not the HIGHWAY
The new Highway Code or the Real Rules of the Road?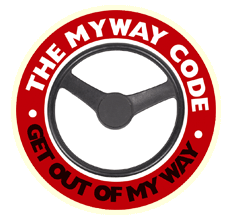 The Highway Code is Britain's best selling non-fiction book, and this year it is exactly 75 years old. Isn't it about time that the old codger got out of the driving seat and let the real rules of the road take over? EnterThe Myway Code.
The Myway Code is absolutely essential reading for all Britain's road users. Written and laid out in a style which will be familiar to anyone who has seen, and therefore failed to read, the official Highway Code, The Myway Code puts its foot down and its finger up, as it rips up the L-plates and tears up the road like an XR3i full of feral children on alcopops. Motorists, cyclists and airline pilots must all take heed, as well as horsy people and the scattered organs of crushed mammals. All are subject to its all-knowing wisdom.
Can you pass The Myway Code Theory Test? Click here to give it a go.
Do you know what car is judged the favourite of Britain's worst drivers. Click here to tell us what you think.

Many of The Myway Code rules are legal requirements and disobedience will be punished by the withering gaze of the law. You may be fined, committed to a penal institution and forced into attendance of wickerwork workshops and/or Open University learning programmes if you disobey the omnipotent hand at the end of the long arm of the highway law.
The Myway Code is written by Ian Vince (Britain: What A State, Channel 4) and Dan Kieran (Crap Towns, Crap Holidays, I Fought the Law) and is in bookshops now.
For more information and pricing on The Myway Code, look at the title's entry on Amazon.co.uk or on PanMacmillan, the publisher's website.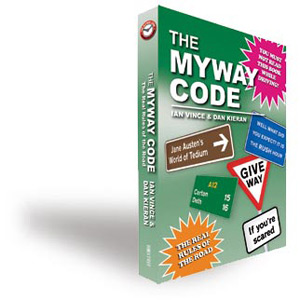 Why not take a look at Ian Vince's Department of Social Scrutiny site, Dan Kieran's Crap Towns site or the website of the Idler magazine?