Tube Strike Wednesday: Download the Emergency Map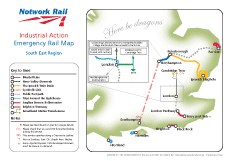 Fears that tomorrow's tube strike will lead to transport chaos around London have been narrowly averted by an emergency map published by Network Rail.

"The map carries full details of the services and connections available to passengers for the duration of the industrial action", claimed a Network Rail spokesman, who wished to remain anonymous for operational reasons. "You can clearly see from the map that the network can adapt well to the disruption and passengers may not even realise there's a strike on at all."

The map details the National Back-Up Rail Plan (BURP) for the first time. The plan uses amenity rail and tram lines, public footpaths and leylines to connect towns and cities.

Rail chiefs are expecting the maps to arrive in stations soon, though many were delayed at the printers because "they were using the wrong kind of paper".

Until the maps arrive at stations, Network Rail is recommending passengers click here to view the map. (GIF - 75K).


Send me feedback/contact me.

Permanent link to this article

Stumble It! | Britain: What A State | The Myway Code
Custom Search
"Thank God: a book that's both clever and funny. Deserves a place on the lap of every comedy fan in Britain." Charlie Brooker
"If you wince at the word 'benchmark', this neat parody could be just the thing to cheer you up." Sunday Telegraph Magazine

The Department of Social Scrutiny Archive – the last 30 articles
Britain: What A State e-Book. Free preview. [Read more]
How to protect your data (from us) [Read more]
Peril Level Alert advice in light of Global Alarm Attitude [Read more]
New DoSS Guide: New Labour, New Pregnancy [Read more]
HMRC Security Breach: What You Can Do to Protect Yourself From Us [Read more]
Announcing the Little Black Book of Red Tape [Read more]
Rules of the Moment: 16-17. Horses. [Read more]
This is Not the Highway Code. [Read more]
The Myway Code Rule of the Moment: 115. Parking Meters [Read more]
Smoke signals to other road users [Read more]
The Myway Code Rule of the Moment: 97-98. Box Junctions [Read more]
The Notwork Rail guide to your railway station. [Read more]
"Keep All Your Old Skin in a Jar", Says Biometric Fraud Tsar. [Read more]
About Your Habitat - Identity Card Application Part 6 [Read more]
Highway Code or Myway Code? [Read more]
New magazine goes on sale to encourage "self-expression" [Read more]
K-ID Cards. [Read more]
Child Identity Theft Proposals Outlined [Read more]
You'll be laughing on the other side of your face. [Read more]
For a complete listing of DoSS, all the way back to 2004, visit The Archive.