Site News & History
www.socialscrutiny.org (DoSS) started life as an entry for a website competition - Channel 4's Comedy Circuit - which it went on to win in 2003.
After all the fuss died down, I began to host DoSS myself with regularly updated extra material. DoSS is now about 20 times the size of the original site and growing all the time. There are currently 0 story pages on the DoSS site and many more hidden away in dark recesses.
In July 2004, the site received a major overhaul with new features and sections styled "Britain: What A State", to tie-in with the Boxtree book of the same name - published in October 2005.
In July 2006, the site received a tech/design overhaul which will enable it to offer better accessibility and will streamline new page designs. The majority of the site is now laid out with Cascading Style Sheets (CSS)
Sky unveils the secret of its success.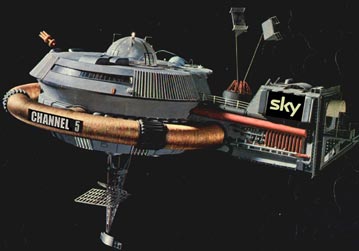 BSkyB, the satellite broadcaster accidentally unveiled the secret behind its recent upturn in profits and expanding market share, today.

As Dirk Porn, Head of Business at Sky, began his presentation to institutional shareholders, an assistant accidentally loaded a set of slides labelled "Sky internal use only" and investors were shown a series of incriminating photographs allegedly documenting the hostile takeover of Thunderbird 5 and assassination of key members of the Tracey family.

The meeting was hastily abandoned and the company refused to comment on their acquisition of Thunderbird 5.




Send me feedback/contact me.

Permanent link to this article
Custom Search
"Thank God: a book that's both clever and funny. Deserves a place on the lap of every comedy fan in Britain." Charlie Brooker
"If you wince at the word 'benchmark', this neat parody could be just the thing to cheer you up." Sunday Telegraph Magazine