Money and finance
Your Money and Your Life - Part 2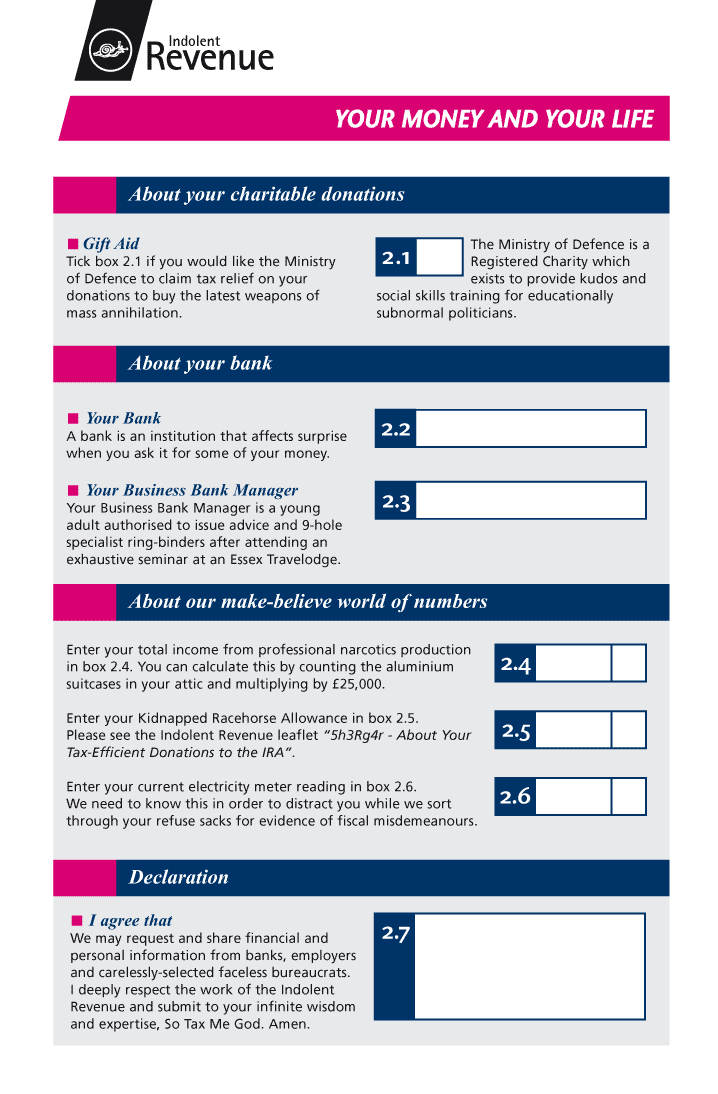 The Department of Social Scrutiny has unveiled the second part of its thorough investigation into your financial circumstances - Your Money and Your Life.
Strict Government guidelines apply to the distribution of all official forms and in line with current rules, we ask you to observe the following current rules:
Right-click the form
Mac users can either click and hold, control-click, or moan about the arcane world of typography for five hours.
Choose somewhere to save the form
Select My Overtly Oppressive Government Forms and click the Comply button.
Print it out
In order for us to deal with your claim more thoroughly, you must print it out onto stock of at least 240gsm, but below 244gsm, as this is, technically speaking, balsa wood.
Leave on a ground floor open window ledge for 6 days
This will enable our agents to collect your details on their rounds. Do not leave steaming hot pies at your open window, as we may not be able to return any that are stolen. If you live more than 3.2 metres above local ambient ground level, you can apply for a grant to construct a small shed nearer the commencement of the soil horizon. You will quickly find that having a shed is another excellent way of wasting your time.
See also Part One of Your Money and Your Life

Send me feedback/contact me.

Permanent link to this article
Custom Search
"Thank God: a book that's both clever and funny. Deserves a place on the lap of every comedy fan in Britain." Charlie Brooker
"If you wince at the word 'benchmark', this neat parody could be just the thing to cheer you up." Sunday Telegraph Magazine
Latest financial news
Currency
The Pound fell sharply today, along with all other major currencies as traders suddenly realised it was all a pointless and unproductive sham
Shares
The Square Mile contracted slightly on news that the Governor of the Bank Of England was considering raising interest rates "for a laugh", then recovered its composure and ended expanding by 6 to a new area of 2148.539 hectares.
Medium Term Outlook
All wrong.