This is Not the Highway Code.
"The Highway Code", Britain's best selling non-fiction book, is 75 years old and, like any senior citizen, it has strong opinions, talks a lot about death and is widely ignored. So wave bye-bye to The Highway Code and enter The Myway Code, the wayward offspring of the original that puts its foot down and its finger up as it rips up the L-plates and tears down the road like an XR3i full of feral children on alcopops.
Written and laid out in a style which will be familiar to all who have seen - and therefore failed to read - the official book, "The Myway Code" is suitable for petrolheads and pedestrians alike, its withering gaze settling on all road users from the crushed organs and fading consciousness of fresh road kill, via chuggers, dogs and cyclists to white van man.
It recognises that only the individual reader knows how to drive, ride, walk or dawdle and that is why the regulations in The Myway Code are the only real rules of the road and also why every copy is personally endorsed by road safety superhero, Captain Death.
Our deluded colleagues at the VDLA have decided to rewrite the Highway Code after 75 years. From now on, The Highway Code becomes The Myway Code and will be available from all good bookshops as well as these Waterstone's and Amazon links. (Open in new windows.)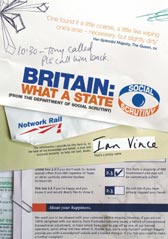 Britain: What A State

The Department of Social Scrutiny's guide to your entire life in Britain. Includes all necessary tax and identity card application forms and a full guide to the British public transport system, as officially sanctioned by Notwork Rail.
Plus: New retirement guide "Are You Alright, Dear", handy graduated tea strength colour matching chart and official guidelines for the consumption of cake, biscuits and other snacks served at ambient room temperature.
"Thank God: a book that's both clever and funny. Deserves a place on the lap of every comedy fan in Britain." Charlie Brooker
"If you wince at the word 'benchmark', this neat parody could be just the thing to cheer you up." Sunday Telegraph Magazine