Smoke signals to other road users
Countdown markers, showing the distance to the start of the junction's slip road. Each diagonal cigarette represents approximately one full, deeply satisfying drag

According toThe Myway Code, smoking is naughty and wrong and unspeakably filthy. Some drivers, however, find those three inches of high-visibility fire stick a semiological extension to their malodorous, nicotine-stained fingers and may use the following cigarette-brandishing signals for emphasis:
I am very relaxed and will shortly execute a beautiful right-hand turn across three lanes of traffic using only one hand, both my knees and a certain level of suave derring-do. Malheureusement, I am French and do all of this from the wrong side of the road.



I am about to turn left and will withdraw my cigarette so that it does not counteract or negate the effect of my left-hand indicator - the passenger who is smoking in the nearside seat on my behalf and who has badly singed the fascist health-fanatic cyclist I have just cut up.


I have dropped a lit cigarette into my lap and my trousers may well be on fire. While I am busy scrabbling around in my seat and screaming, please pass on either side and call the fire brigade.




I have just suffered a major heart attack and/or pulmonary embolism, brought about by my dedicated services and support of the tobacco industry over the years. For the purposes of The Myway Code, my car is now classified as a temporary bollard. Please pass on. I know I have.

The VDLA, in its 'wisdom', has decided to rewrite the Highway Code after 75 years - in line with the rules commonly encountered on the nation's roads today. From now on, The Highway Code becomes The Myway Code and will be available from all good bookshops as well as these Waterstone's and Amazon links. (Open in new windows.)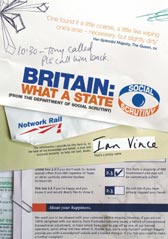 Britain: What A State

The Department of Social Scrutiny's guide to your entire life in Britain. Includes all necessary tax and identity card application forms and a full guide to the British public transport system, as officially sanctioned by Notwork Rail.
Plus: New retirement guide "Are You Alright, Dear", handy graduated tea strength colour matching chart and official guidelines for the consumption of cake, biscuits and other snacks served at ambient room temperature.
"Thank God: a book that's both clever and funny. Deserves a place on the lap of every comedy fan in Britain." Charlie Brooker
"If you wince at the word 'benchmark', this neat parody could be just the thing to cheer you up." Sunday Telegraph Magazine