European decimal piano unveiled
Following recent calls for the UK to embrace metrication by former Chancellor of the Exchequer Sir Geoffrey Howe, a British firm has unveiled the world's first ever decimal piano.

The piano, made by Eurotinklers of Nottingham, replaces the traditional eight note octave with a a ten note "dectave". The new DecimalPiano - also known as the 10forte - will be easily recognisable by virtue of its 10 metre keyboard and the words "METRIC PACK" stamped above Middle C.

The ten note dectave is set not only to revolutionize chord nomenclature - C Major will now be known as H0.8, for example - but also the order of the notes themselves. Now that the benefits of decimalization have finally reached the music industry, the metric piano can be so efficiently manufactured that even radical customizations like reversing the key order to right-to-left for the Hebraic market or up-down for the Chinese are much more cost-effective.

The European Music Commission has welcomed the new instrument which, in line with the European Piano Directive, also has all the black notes removed because of fears of racial intolerance. "Richard Clayderman was kilometres ahead of all of us," said EMS Spokesman Enrique Fortissimo, "as he declined to use anything other than the white notes as far back as the 1980s."

Eurotinklers are to unveil the instrument next week.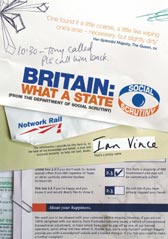 Britain: What A State

The Department of Social Scrutiny's guide to your entire life in Britain. Includes all necessary tax and identity card application forms and a full guide to the British public transport system, as officially sanctioned by Notwork Rail.
Plus: New retirement guide "Are You Alright, Dear", handy graduated tea strength colour matching chart and official guidelines for the consumption of cake, biscuits and other snacks served at ambient room temperature.
"Thank God: a book that's both clever and funny. Deserves a place on the lap of every comedy fan in Britain." Charlie Brooker
"If you wince at the word 'benchmark', this neat parody could be just the thing to cheer you up." Sunday Telegraph Magazine