DoSS take over official publications.
A new User's Guide to Britain is in preparation by the Department of Social Scrutiny following the DoSS takeover of all official government publications.

Disgruntled employees of Her Majesty's Stationery Office walked out in disgust yesterday, brandishing vellum placards, while their colleagues at the Office of National Statistics were left with nothing to quantify, analyze or lie about anymore.

The User's Guide to Britain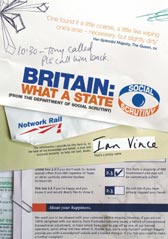 Britain: What A State

The Department of Social Scrutiny's guide to your entire life in Britain. Includes all necessary tax and identity card application forms and a full guide to the British public transport system, as officially sanctioned by Notwork Rail.
Plus: New retirement guide "Are You Alright, Dear", handy graduated tea strength colour matching chart and official guidelines for the consumption of cake, biscuits and other snacks served at ambient room temperature.
"Thank God: a book that's both clever and funny. Deserves a place on the lap of every comedy fan in Britain." Charlie Brooker
"If you wince at the word 'benchmark', this neat parody could be just the thing to cheer you up." Sunday Telegraph Magazine