World's largest animated gif woos London crowds.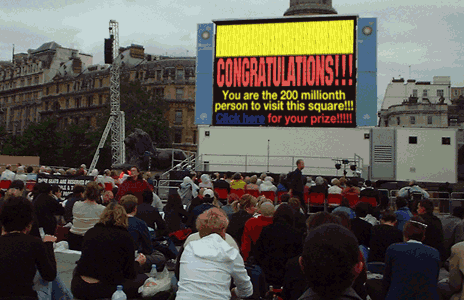 The world's largest animated gif has gone on display in Trafalgar Square, London, to a rapturous welcome.

The gif, which is half a million pixels wide and loops for eternity, drew gasps of wonder over its scale and epic proportions when it was unveiled this morning in a free viewing to celebrate the ultimate in web marketing.

"It's absolutely beautiful, its simplicity is refreshing and the message has something for everyone," said passing pedestrian Neil Spangle.

"I just want to buy something, but I don't know what: it's very clever," said Neil, adding, "I think I'm going to be sick now."

The makers are currently looking for a web page large enough to accommodate the half-terabyte graphic. Meanwhile, plans to install the widest version of Dreamweaver ever seen - Dreamweaver XXL, are on hold until the introduction of specially cantilevered web servers sometime in 2005.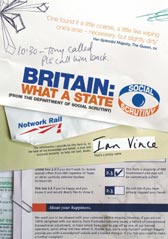 Britain: What A State

The Department of Social Scrutiny's guide to your entire life in Britain. Includes all necessary tax and identity card application forms and a full guide to the British public transport system, as officially sanctioned by Notwork Rail.
Plus: New retirement guide "Are You Alright, Dear", handy graduated tea strength colour matching chart and official guidelines for the consumption of cake, biscuits and other snacks served at ambient room temperature.
"Thank God: a book that's both clever and funny. Deserves a place on the lap of every comedy fan in Britain." Charlie Brooker
"If you wince at the word 'benchmark', this neat parody could be just the thing to cheer you up." Sunday Telegraph Magazine