London Art Fire spreads toxic cloud of conceptualism over capital.
The fallout from a huge warehouse fire that has destroyed millions of pounds-worth of modern art is spreading a lethal plume of post modern conceptualism over London, it has emerged.

The fire, at the Momart art warehouse facility at Leyton to the north-east of the capital has destroyed work owned by art collector Charles Saatchi, which includes pieces by Tracey Emin, the Chapman Brothers and other artists in the Britart movement.

Now, fears are growing that a cloud of wind-borne conceptualism released in the blaze could be carried over Central London, affecting institutions and Government. A number of spontaneous incidents are said to have already occurred, including an alleged meeting of the cabinet in nude and the installation of a mannequin as Foreign Secretary. Observers are closely following today's Prime Minister's Question Time in the House of Commons, where Tony Blair is expected to query his right, in existential terms, to be Prime Minister at all.

Fire fighters at the blaze brought the inferno under control last night and then relit it, to "see what would happen".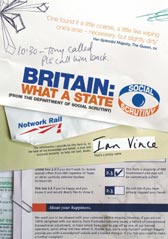 Britain: What A State

The Department of Social Scrutiny's guide to your entire life in Britain. Includes all necessary tax and identity card application forms and a full guide to the British public transport system, as officially sanctioned by Notwork Rail.
Plus: New retirement guide "Are You Alright, Dear", handy graduated tea strength colour matching chart and official guidelines for the consumption of cake, biscuits and other snacks served at ambient room temperature.
"Thank God: a book that's both clever and funny. Deserves a place on the lap of every comedy fan in Britain." Charlie Brooker
"If you wince at the word 'benchmark', this neat parody could be just the thing to cheer you up." Sunday Telegraph Magazine